October 14, 2016

National Public Safety Telecommunications Council
Thank You First Responders! From jurisdictions up and down the east coast, first responders confronted flooding and extreme winds of Hurricane Matthew to assist those in need. Thanks to the telecommunicators in the PSAPs who maintained communications with first responders and with the public during the storm. NPSTC thanks our first responders and telecommunicators for their service.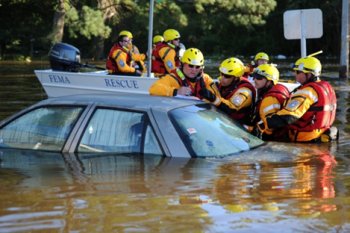 Florida Association of Public-Safety Communications Officials (APCO) International Wants to Hear From You.
Now that Hurricane Matthew has passed, please contact APCO to let them know how your Communications Center weathered the storm. If there are any current needs for your center or if any of your employees were personally impacted, let APCO know. They are ready to assist as needed. Please contact:
floridaapco@gmail.com
.
Ten Reasons EMS Needs to Be Engaged with FirstNet. "EMS is on the cusp of a revolution. Are you ready for communication technologies that will turn the back of your ambulance into a remote emergency room? Soon the glasses you are wearing and the ultrasound machine you are using will live stream what you see to the hospital as you are en route with your patient. The newest generation of EMS practitioners will hold high-definition, two-way video dialogues with physicians and specialists." - TJ Kennedy, FirstNet President.
FirstNet is building a Nationwide Public Safety Broadband Network (NPSBN). NPSTC's EMS Working Group has created
Ten Reasons You Need to Be Engaged with FirstNet Now
, detailing why EMS stakeholders need to help define prehospital broadband capabilities. The NPSBN will give EMS personnel access to a secure, high-speed data network that will transform the way prehospital care is delivered to the critically ill and injured. FirstNet needs to know what EMS requires and expects from the network. This cannot happen unless EMS is sitting at the table during the discussions.

NASEMSO Resolution.
The National Association of State EMS Officials (NASEMSO) issued a
NASEMSO Resolution 2016-02-FirstNet
in strong support of FirstNet. Read the
NASEMSO newsletter
, Calling for EMS Colleagues to Prepare for and Support FirstNet Implementation in States, and view the Department of Homeland Security (DHS's) First Responder Group's Responder Technology Alliance's
Video
on the Future of First Response: Vision for Emergency Medical Services EMS.
NPSTC Thanks Dedicated Volunteers in Award Ceremony. At NPSTC's Governing Board meeting held in Washington, D.C., Chair Ralph Haller was pleased to present Awards 2016 the following awards to NPSTC's most valuable assets - our volunteers.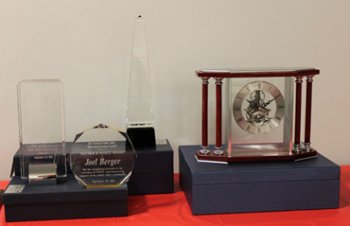 Participant's Award, Sponsored by NASEMSO. The NPSTC Participant's Award was created to recognize individuals and/or organizations that have supported NPSTC and the public safety community on critical objectives such as achieving interoperability. The recipients were Bette Rinehart and David Eierman.
Leadership Award, Sponsored by NASEMSO. The NPSTC Leadership Award was created to recognize individuals and/or organizations that have demonstrated exceptional personal and professional conduct. The recipients were Brian Marenco, Kim Coleman Madsen, Chris Kindelspire, and Tom Sorley.
Hertz Award, Sponsored by APCO International. The Hertz award, named in honor of Heinrich Hertz whose name denotes the scientific unit of frequency - cycles per second - is not an annual award but one that is only awarded when exceptional performance warrants it. The recipient was Joel Berger.
DJ Atkinson Technical Award, Sponsored by Jeff Bratcher. The DJ Atkinson Technical Award, created in 2012 to honor DJ Atkinson's work, recognizes individuals and/or organizations that have demonstrated exceptional technical support to NPSTC and the public safety communications community. The recipient was Greg Buchwald.
Lifetime Achievement Award, Sponsored by NENA. The NPSTC Lifetime Achievement Award reflects the many years the recipient has worked for the interests of public safety communications, nationwide. The recipient shall have positively influenced nationwide policy in many ways over his/her lifetime, which as a result, has demonstrably improved public safety communications. This award is not given annually, but rather as determined by the NPSTC Governing Board. The recipient was Roger Hixson.
Chairman's Award, Sponsored by Ralph Haller. This award is given at the discretion of the Chair. The recipients were Jackie Bayless, Sandy Dawkins, and Dawn Ober.
Richard DeMello Award, Sponsored by IMSA. The Richard DeMello Award is presented to one individual in public safety communications who has demonstrated the highest levels of personal and professional conduct and performance in the local, state, and national public safety communications arena. The recipient was Paul Patrick.

Join Us on Social Media
NPSTC Outreach News and Related Public Safety News are now available on NPSTC's blog.
Click on the orange icon above to check it out.
NPSTC is a federation of organizations whose mission is to improve public safety communications and interoperability through collaborative leadership.
Support provided by the U.S. Department of Homeland Security's Science and Technology Directorate, Office for Interoperability and Compatibility, and the National Program and Protection Directorate, Office of Emergency Communications. Points of view or opinions expressed are those of the originators and do not necessarily represent the official position or policies of the U.S. Department of Homeland Security.
American Association of State Highway and Transportation Officials | American Radio Relay League | Association of Fish and Wildlife Agencies | Association of Public Safety Communications Officials | Forestry Conservation Communications Association | International Association of Chiefs of Police | International Associate of Emergency Managers | International Association of Fire Chiefs | International Municipal Signal Association | National Association of State Chief Information Officers | National Association of State Emergency Medical Services Officials | National Association of State Foresters | National Association of State Technology Directors | National Council of Statewide Interoperability Coordinators | National Sheriffs' Association | National Emergency Number Association
National Public Safety Telecommunications Council | 8191 Southpark Lane | Unit 205 | Littleton | CO | 80120