December 18, 2017

National Public Safety Telecommunications Council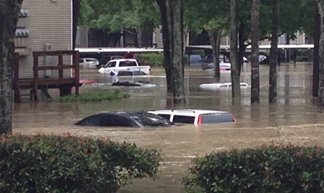 NPSTC to Host Town Hall – Public Safety Use of Social Media during Disasters. NPSTC is planning a virtual "Town Hall" presentation on the changing use of social media by public safety agencies during disaster events. While many agencies use Facebook and Twitter to notify the public of important information, other agencies are beginning to leverage "crowd source" intelligence from social media platforms by analyzing large amounts of information being posted to social media by the public. The public is also using social media to post requests for help when they are unable to reach 9-1-1, creating new problems for agencies to manage.
When:
Wednesday, January 24, 2018 NOON ET
Representatives of public safety agencies that responded to a variety of disaster events, including hurricanes, wildland fires, and mass shootings will discuss their use of social media. Time will also be allocated for an audience Q&A session. This will be a 90-minute seminar with four panelists led by a moderator. Details will follow in upcoming Outreach News, including information on our speakers.
Mark Your Calendar! NPSTC's First Meeting of 2018 Will Be Held on January 9.
Join us for a full meeting
via conference call on January 9, 2018, 1:00 p.m. – 3:00 p.m. ET
.
Call In: (510) 227-1018 | ID: 1927086#; Webinar Access Information: https://join.me/npstcsupport1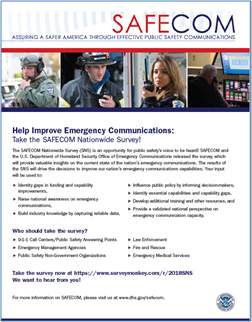 Help Improve Emergency Communications. Take the SAFECOM Nationwide Survey Now. SAFECOM Survey The Department of Homeland Security Office of Emergency Communications (OEC) and SAFECOM launch the SAFECOM Nationwide Survey (SNS) earlier this fall. Funding decisions to support critical public safety requirements depend on valid information that reflects the needs of the community, and the SNS will provide these valuable insights on our nation's emergency communications.
The results of the survey will be used to drive the decisions for improvements to our nation's emergency communications capabilities, programs, and funding. This is a unique opportunity for your voice to be heard! Visit
www.dhs.gov/safecom/sns
for more information on OEC and SAFECOM's efforts.
Please Join NPSTC for any Additional Committee and Working Group Meetings that Interest You.
NPSTC is holding the following meetings this week, which are open to anyone who is interested in public safety communications. The full schedule is available on the
NPSTC Public Safety Calendar
, including conference lines and access codes.

Join Us on Social Media
NPSTC Outreach News and Related Public Safety News are now available on NPSTC's blog.
Click on the orange icon above to check it out.
NPSTC is a federation of organizations whose mission is to improve public safety communications and interoperability through collaborative leadership.
Support provided by the U.S. Department of Homeland Security's Science and Technology Directorate, Office for Interoperability and Compatibility, and the National Program and Protection Directorate, Office of Emergency Communications. Points of view or opinions expressed are those of the originators and do not necessarily represent the official position or policies of the U.S. Department of Homeland Security.
American Association of State Highway and Transportation Officials | American Radio Relay League | Association of Fish and Wildlife Agencies | Association of Public Safety Communications Officials | Forestry Conservation Communications Association | International Association of Chiefs of Police | International Associate of Emergency Managers | International Association of Fire Chiefs | International Municipal Signal Association | National Association of State Chief Information Officers | National Association of State Emergency Medical Services Officials | National Association of State Foresters | National Association of State Technology Directors | National Council of Statewide Interoperability Coordinators | National Sheriffs' Association | National Emergency Number Association
National Public Safety Telecommunications Council | 8191 Southpark Lane | Suite 205 | Littleton | CO | 80120