August 04, 2020

Join RCA for Two Exciting August Virtual Events
---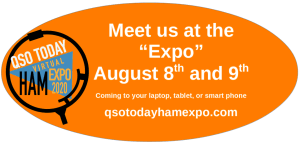 Visit the Radio Club of America at the QSO Today Virtual Ham Radio Expo THIS WEEKEND, August 8–9, 2020.
There will be 46 exhibitors and over 20,000 attendees from all over the world. Registration is FREE – click HERE to register.
---

Don't Miss the Live Webcast Conversation with Dr. Ted Rappaport on August 13!
First in a series of Q & A discussions with industry leaders, this webcast conversation with Dr. Ted Rappaport and RCA President Emeritus Tim Duffy will be live on August 13, 2020 9-10 p.m. EDT. This Zoom webinar event is free and pre-registration is required – please register
HERE
.
Learn more about Dr. Rappaport's career in wireless, plus he'll share details of his life-long passion for radio, views on 5G, information on the current work he's doing at NYU, and his unique history with RCA. We will also learn more about companies he's been associated with in the wireless industry and what he sees for the future of wireless communications.
This Zoom webinar event is live and will not be recorded. Pre-registration is required for this free event. Don't delay,
register
today!

Radio Club of America | 13570 Grove Drive #302, Maple Grove, MN 55311