January 13, 2022

On Thursday, December 30, Colorado's most destructive fire swept through several Boulder County communities – destroying more than 1,000 homes just a few miles from the NIST campus.
Several staff, including myself, got the order to evacuate that day. As winds exceeding 100 miles per hour rapidly spread the fire, many of us waited by watching the news in anticipation of learning whether or not our homes and belongings were still there.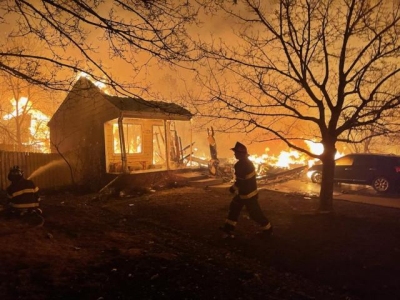 Photo credit: Denver Fire
Fortunately, no one from the PSCR team lost their home. For me, it was an incredibly close call; my backyard was used as the frontline from which courageous firefighters served to extinguish a flaming open space. The burns on my fence are a daily reminder of how grateful my family and I feel for the men and women who responded so heroically that day – some who even may have lost homes themselves.
It's with all of this in mind that I say, thank you. Thank you to those responders from Boulder and other Colorado counties, as well as those that travelled from across the United States to assist our community. Thank you to those in dispatch and emergency management for ensuring resources were deployed as quickly and safely as possible. Thank you to secondary responders in investigation, research and development, administration, and to all of you supporting the public safety mission.
It's during times like this we remember the importance of supporting the brave men and women of our public safety community.
For more information on the Marshall Fire, visit https://www.boulderoem.com/.
Sincerely,
Dereck Orr
Division Chief, PSCR