October 20, 2022

Next up in PSCR's Webinar Series:
The History & Future of the
PSCR Drone Program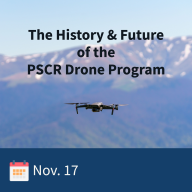 Thursday, November 17, 2022
11:00 AM – 12:00 PM (MT)
Join PSCR's Terese Manley and Don Harriss to learn more about the history and impacts of PSCR's uncrewed aircraft system (UAS), aka drone, prize challenge program to date, as well as the future of the program.

NIST PSCR began running UAS prize challenges in 2018, with the launch of the
UAS Flight and Payload challenge
. PSCR is currently running the fourth UAS prize challenge in the ongoing series, the
First Responder UAS Indoor Challenge
. The solutions produced by these challenges have led to advancements in affordable and feature-rich drone technology for first responders, and future challenges are in development.
National Institute of Standards and Technology
325 Broadway, Boulder, CO, 80305 US