December 15, 2016

National Public Safety Telecommunications Council
NPSTC Publishes Considerations for the FirstNet Local Agency Information Homepage.
The FirstNet Web Status Page is designed to display locally relevant information regarding incidents and FirstNet network availability to public safety users. It may also alert first responders to urgent situations, including notifications as they enter the specific geographic zone of a major incident. The status page would provide meaningful information to first responders, including the incident description, assigned radio channels, staging locations, etc.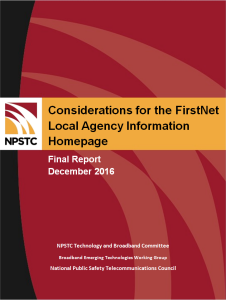 NPSTC identified the need for a status page in the original
700 MHz Public Safety Broadband Task Force Report and Requirements
published in 2009, and the status page requirements were further refined by NPSTC in the 2012
Public Safety Broadband High-Level Launch Requirements
. FirstNet subsequently included the status page capability in its Request for Proposal. The report, developed by the Broadband Emerging Technologies Working Group, provides further clarity on how public safety could use the status page and the various ways in which it can enhance responder safety while also providing basic data interoperability between neighboring agencies.
NPSTC Files Ex Parte Supporting IMSA Petition for Waiver from Regarding 6.25 kHz Efficiency Rule.
The International Municipal Signal Association (IMSA) filed a petition for a waiver regarding the 6.25 kHz or equivalent efficiency equipment capability mandate for the VHF and UHF bands. NPSTC's filing states: "The IMSA filing raises some valid concerns faced by volunteers in the public safety community. .... (T)he Commission no longer accepts applications for certification of Part 90 radios in the 150-174 MHz and 450-512 MHz bands that cannot operate in a 6.25 kHz or equivalent efficiency mode. There is no corresponding rule requiring licensees actually to operate with an efficiency of 6.25 kHz per channel or equivalent. The rule applies only to equipment capability. However, as noted in the IMSA request for waiver, this 6.25 kHz efficiency requirement essentially prevents manufacturers from offering new radio models that are relatively inexpensive analog FM-only devices. Meeting the 6.25 kHz or equivalent efficiency capability requirement essentially requires that the radios be digital. Therefore, while public safety entities strive to be interoperable, not all public safety entities have the same overall communications requirements or budget."
Many public safety agencies may very well need and can afford digital radio equipment with a full set of features. However, there are volunteers who are part of the public safety community who must fund the purchase of their own radios. For these volunteers, the availability of a low cost radio may mean the difference between some communications or no communications at all. If they cannot afford to be "operable," they certainly will not be interoperable.

PSCR Announces Release of NIST Public Safety Innovation Accelerator Program Funding Opportunity. PSCR is excited to announce the release of the NIST Public Safety Innovation Accelerator Program Funding Opportunity to rapidly accelerate research and development related to public safety broadband communications. Through this opportunity, PSCR anticipates awarding up to $30,000,000 in grants and cooperative agreements by May 2017. This funding opportunity focuses on the following six key technology areas that have the potential to transform the future of public safety communications and operations: Mission Critical Voice, Location Based Services, Public Safety Analytics, Public Safety Communications Demand Model, Research and Prototyping Platforms, and Resilient Systems.
Applicants may propose projects specific to one or multiple technology areas as well as cross-cutting projects that address objectives within those technology areas. The funding opportunity is open to all non-Federal entities. In addition, applicants are strongly encouraged to partner with public safety organizations to create innovative and impactful proposals. If you would like to learn more, please visit
PSCR's grants page
.
From the NPSTC Blog: (Source, Homeland Security Today).
Two new disaster drones delivered telemedical packages to victims and rescue personnel in a simulated mass casualty event Tuesday at John Bell Airport in Bolton, Mississippi as a demonstration of the Telemedical Drone Project, known as HiRO (Health Integrated Rescue Operations), which was developed by Dr. Italo Subbarao, Senior Associate Dean at William Carey University College of Osteopathic Medicine, and Guy Paul Cooper, Jr., a fourth year medical student at WCUCOM.
New Medical Disaster Drone For Audience Of Homeland Security, Global Health Organizations

Join Us on Social Media
NPSTC Outreach News and Related Public Safety News are now available on NPSTC's blog.
Click on the orange icon above to check it out.
NPSTC is a federation of organizations whose mission is to improve public safety communications and interoperability through collaborative leadership.
Support provided by the U.S. Department of Homeland Security's Science and Technology Directorate, Office for Interoperability and Compatibility, and the National Program and Protection Directorate, Office of Emergency Communications. Points of view or opinions expressed are those of the originators and do not necessarily represent the official position or policies of the U.S. Department of Homeland Security.
American Association of State Highway and Transportation Officials | American Radio Relay League | Association of Fish and Wildlife Agencies | Association of Public Safety Communications Officials | Forestry Conservation Communications Association | International Association of Chiefs of Police | International Associate of Emergency Managers | International Association of Fire Chiefs | International Municipal Signal Association | National Association of State Chief Information Officers | National Association of State Emergency Medical Services Officials | National Association of State Foresters | National Association of State Technology Directors | National Council of Statewide Interoperability Coordinators | National Sheriffs' Association | National Emergency Number Association
National Public Safety Telecommunications Council | 8191 Southpark Lane | Suite 205 | Littleton | CO | 80120