NPSTC Public Safety Awards
Sue Swenson, 2018 DeMello Award Winner!
NPSTC Awards Sue Swenson, FirstNet Board Chairwoman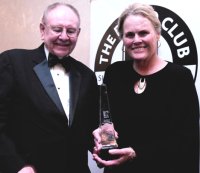 [2014–2018] the 2018 Richard DeMello Award. The DeMello award is NPSTC's most important honor, and is presented to one individual in public safety communications who has demonstrated the highest levels of personal and professional conduct and performance in the local, state, and national public safety communications arena ...
[read more]
(Harlin McEwen, NPSTC's First DeMello Awardee,
Presents Sue Swenson the 2018 DeMello Award
at the RCA Award Dinner)
DJ Atkinson Technical Award
Lifetime Achievement Award
Award Nominations
NPSTC relies on you – our hard-working volunteers to accomplish our important work on behalf of public safety telecommunications. We want to recognize the hard work and commitment you provide while working full-time jobs. We encourage your participation to help us identify nominees who meet the criteria. The submission deadline is June 1st for the annual presentations in November.