November 27, 2017

National Public Safety Telecommunications Council
FirstNet President TJ Kennedy Plans to Leave at the End of This Year. "After more than 4 years with FirstNet, TJ Kennedy has decided the time is right to pursue other opportunities in the private sector and take on new challenges in his career," FirstNet said. "He has been with FirstNet from the startup days and into our current operational phase – fulfilling his promise to us and to public safety."
"TJ has been the right person at the right time for FirstNet. Under his leadership, the concept of a Nationwide Public Safety Broadband Network (NPSBN) has matured into an implementation plan," says Ralph Haller, NPSTC's Chair. "The early stages of a major project are always the hardest. TJ met that challenge with excellence. Public safety is lucky to have had his expertise on the FirstNet project."
The FirstNet board appointed Mr. Kennedy to the president role in August 2015. He joined the agency in August 2013 as deputy general manager and was promoted to general manager on an acting basis when Bill D'Agostino stepped down in April of the following year.
In a recent interview, Mr. Kennedy told Urgent Communications it is the "right time" for him to make the move, noting that he and other members of the FirstNet team have seen the completion of the organization's roadmap – a plan adopted in 2014 that detailed more than 40 tasks that needed to be executed to establish a sustainable NPSBN.
The Radio Club of America held its awards banquet on Friday, Nov. 17, 2017. Chief Harlin McEwen, winner of NPSTC's first DeMello Award, spoke about this year's winner, Kevin McGinnis, MPS, EMT-P, representing the National Association of State Emergency Medical Services Officials (NASEMSO) on NPSTC's Governing Board. Due to an unavoidable conflict, Chief McGinnis could not attend the dinner and will receive his award at a later time.
From Chief McEwen: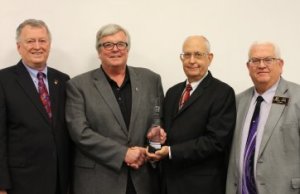 Kevin McGinnis shown second from left receiving DeMello Award from Ralph Haller
"It gives me great pleasure to once again present the DeMello Award of the National Public Safety Telecommunications Council. In 2006, NPSTC, working with the Radio Club, created an annual award in honor of the late Richard DeMello, one of the founding members of NPSTC. The award is presented to a public safety communications person who has demonstrated the highest levels of personal and professional conduct and performance in the local, state, and national public safety communications arena. I was honored to be selected for the first DeMello award in 2006, and tonight I am pleased to announce that the twelfth award goes to my friend and Radio Club member, Kevin McGinnis.
I am fortunate to say that I have known Kevin since he was a young boy in Ithaca, NY, and I have worked with Kevin for many years. His career has centered on Emergency Medical Services, and he is well known throughout the nation as a visionary leader and author, who has worked tirelessly to promote improved Emergency Medical Services with a focus on improved EMS communications, rural EMS, and community paramedicine.
Kevin has been an EMT and paramedic for over four decades. He has served as the chief for volunteer, hospital-based, and private ambulance services and as an emergency room director. He was state EMS director in Maine for 10 years and state E-9-1-1 director there for 2 years as well. Kevin has served as a Board member of the First Responder Network Authority (FirstNet) since it was established in 2012. He was the vice-chair and chair of Homeland Security's SAFECOM program for 6 years, and is the communications technology advisor for five national EMS associations.
I believe Kevin is extremely worthy of the honor this award conveys. Unfortunately, Kevin has an unavoidable conflict of schedule and is not able to be here to accept the award this evening, and it will be presented to him in the near future."

Have a Say in the Future: Participate in the SAFECOM Nationwide Survey.
The survey will be live until February 2018 and can be accessed on the
SAFECOM website
. The SAFECOM Nationwide Survey (SNS) is a data-gathering effort that will equip government officials and emergency responders with critical information to make decisions about future emergency communications policies, funding, and programs. SAFECOM will leverage the collected data to identify gaps and inform development of the program's strategic priorities. Questions on the SNS can be directed to
SNS@hq.dhs.gov
.
Please Join the Interoperability Committee on Tuesday, November 28, from 2:00–3:00 p.m. ET for a Special Presentation on P25 CAP. Sridhar Kowdley, Program Manager, DHS S&T, will present on the current status of the Project 25 Compliance Assessment Program (CAP), including the role of the CAP Advisory Panel (AP) and how the Compliance Assessment bulletins work.
Please Join NPSTC for any Committee and Working Group Meetings that Interest You
. Check out NPSTC's full schedule of meetings for December on the
NPSTC Public Safety Calendar
, including conference lines and access codes. All meetings are open to anyone who is interested in public safety communications.

Join Us on Social Media
NPSTC Outreach News and Related Public Safety News are now available on NPSTC's blog.
Click on the orange icon above to check it out.
NPSTC is a federation of organizations whose mission is to improve public safety communications and interoperability through collaborative leadership.
Support provided by the U.S. Department of Homeland Security's Science and Technology Directorate, Office for Interoperability and Compatibility, and the National Program and Protection Directorate, Office of Emergency Communications. Points of view or opinions expressed are those of the originators and do not necessarily represent the official position or policies of the U.S. Department of Homeland Security.
American Association of State Highway and Transportation Officials | American Radio Relay League | Association of Fish and Wildlife Agencies | Association of Public Safety Communications Officials | Forestry Conservation Communications Association | International Association of Chiefs of Police | International Associate of Emergency Managers | International Association of Fire Chiefs | International Municipal Signal Association | National Association of State Chief Information Officers | National Association of State Emergency Medical Services Officials | National Association of State Foresters | National Association of State Technology Directors | National Council of Statewide Interoperability Coordinators | National Sheriffs' Association | National Emergency Number Association
National Public Safety Telecommunications Council | 8191 Southpark Lane | Suite 205 | Littleton | CO | 80120