June 25, 2018

National Public Safety Telecommunications Council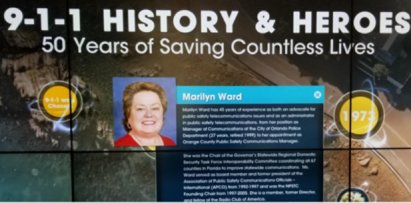 NENA Honors Marilyn Ward as Part of Its "9-1-1 History and Heroes" Presentation.
The National Emergency Number Association (NENA) celebrated its conference in Nashville, TN, from June 16-21, at the Music City Center. On February 16, 1968, history was made when the first-ever 9-1-1 call was made in Haleyville, Alabama. Since that day, 9-1-1 professionals have dutifully served the public as the first first responders to emergencies large and small. NPSTC's Executive Director Marilyn Ward was among those honored for their work. Read her complete biography
here
.
NPSTC Filed Reply Comments to FCC's NPRM on Process to Encourage Provision of New Technologies and Services to the Public.
Section 7 of the Communications Act requires the FCC to determine within 1 year whether a petition or application for a new technology or service is in the public interest. In general, NPSTC supported the goals of the proposal.

NPSTC's Reply Comments provided overall support for the guidelines and process the FCC has proposed. The Reply Comments also recommended some clarity on how the proposed Section 7 process would meld with the Technological Advisory Council (TAC) spectrum policy recommendations, if enacted, on which NPSTC commented earlier this year. Finally, the Reply Comments noted that both the proposed Section 7 process and any implementation of the TAC spectrum policy recommendations place significant additional workload on the Office of Engineering and Technology and, therefore, the FCC may need to hire additional engineers.
Texas A&M University Will Present at Broadband Emerging Technologies Working Group, on Wednesday, June 27, from 12:00 – 1:00 p.m. ET.
Dr. Eric Jing Du, Assistant Professor at Texas A&M University, will provide an update on their PSCR-funded research to study cognitive overload in first responders. A Virtual Reality environment will be used to simulate various public safety scenarios and first responders are physiologically monitored to determine whether they are able to process incoming data about the incident. Different types and styles of data can be displayed to the first responder and analyzed. Another goal is to customize the data that flows to a first responder, so they only receive the information that they need for their specific mission. The objective of the grant is to validate a User Interface design for firefighters that meets their needs and does not result in cognitive overload.


Check Out How NIIX Can Take Your Project Collaboration to the Next Level.
The National Interoperability Information eXchange (NIIX) is a free online tool available to public safety for NIIX Logo storing, sharing, and reviewing documents. This secure central warehouse is efficient and easy to use with online and telephone support readily available to answer any questions you may have. If you are an employee of a government agency and would like to start a NIIX Community and become a NIIX Community Coordinator, or if you have questions, email us at
support@niix.org
.
Please Join NPSTC for Any Additional Committee and Working Group Meetings that Interest You.
NPSTC is holding the following meetings this week, which are open to anyone interested in public safety communications. The full schedule is available on the
NPSTC Public Safety Calendar
, including conference lines and access codes.
Join Us on Social Media
NPSTC Outreach News and Related Public Safety News are now available on NPSTC's blog.
Click on the orange icon above to check it out.