December 04, 2018
The DeMello award is NPSTC's most important honor, and is presented to one individual in public safety communications who has demonstrated the highest levels of personal and professional conduct and performance in the local, state, and national public safety communications arena.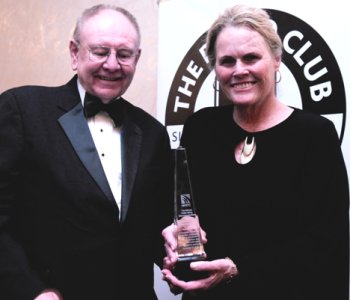 Harlin McEwen, NPSTC's First DeMello Awardee, Presents Sue Swenson the 2018 DeMello Award at the RCA Award Dinner


For 6 years Sue Swenson has provided vision, leadership, and technological expertise in her roles with the First Responder Network Authority (FirstNet). NPSTC is honored to offer our appreciation and recognition of her work that has helped to advance the cause of public safety communications. Thanks, largely due to Ms. Swenson's leadership, the FirstNet Authority, in partnership with AT&T, is now delivering the long sought-after "Nationwide Public Safety Broadband Network" ...
[read more in the August Press Release]