October 07, 2020

National Public Safety Telecommunications Council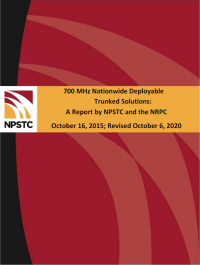 In October 2015, the National Public Safety Telecommunications Council (NPSTC) and the National Regional Planning Council (NRPC) issued the 700 MHz Nationwide Deployable Trunked Solutions report. The
report
addressed recommended technical and logistical solutions to implement deployable trunked systems on 700 MHz band channels the Federal Communications Commission (FCC) had designated for such use.
The 2020 revisions to the report address solutions to a technical problem that arose with a specific subset of deployable operations, in which out-of-area radios roamed onto a deployable system. The roaming units were unable to use talk-groups in common with the local deployable radios, potentially hampering mutual aid responses at large incidents.
NPSTC and NRPC representatives reviewed the problem and worked with the equipment manufacturers to understand the underlying technical factors and to recommend the best alternative to address the issue. As a result of this work, NPSTC and NRPC revised the 700 MHz Nationwide Deployable Trunked Solutions report effective October 6, 2020. The revised report can be accessed here
here
.
Join Us on Social Media
NPSTC Outreach News and Related Public Safety News are now available on NPSTC's blog.
Click on the orange icon above to check it out.