March 29, 2022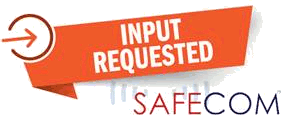 Hello,
We are looking for your valuable input! Every five years, the Cybersecurity and Infrastructure Security Agency (CISA) Emergency Communications Division (ECD) is required by the
Homeland Security Act of 2002
to assess federal, state, local, territorial, and tribal governments' emergency communications capabilities. The
SAFECOM Nationwide Survey
(SNS) is the collection tool used to obtain data on the status of emergency communications capabilities across the nation, which ultimately helps inform policies, priorities, and funding. ECD is preparing to conduct the next SNS in late 2022 or early 2023.
To ensure the SNS achieves statistically sound results, ECD needs help in creating an outreach campaign that will entice emergency communications end-users across all levels of government, disciplines, and geographies to complete the survey.
We are hosting an outreach brainstorming session on Tuesday, April 26, 1:00 p.m. to 2:00 p.m. (ET). As a representative of the outreach component of SAFECOM, you have insight into the types of communications channels, products and messages that resonate with the communities you serve. Your contribution to the brainstorming session, will help achieve maximum participation and responses to the survey.
Please send the name and contact information of your representative to
sns@cisa.dhs.gov
by Friday, April 8, 2022.
Thank you for helping us to conduct this critical activity. We greatly value your insights and look forward to hearing from you.
Best,
The SNS Team