NPSTC Public Safety Awards
Jim Goldstein, 2021 DeMello Award Winner!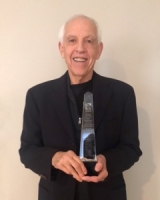 The Richard DeMello Award was presented to Jim Goldstein in recognition of his personal dedication, professional leadership, and devotion to improving the local, state, and national public safety communications community including his tireless efforts in advocating for the "Don't Break Up the T-Band Act" of 2020 ...
[read more]
(2021 DeMello Award
Presented to
Jim Goldstein
DJ Atkinson Technical Award
Lifetime Achievement Award
Award Nominations
NPSTC relies on you – our hard-working volunteers to accomplish our important work on behalf of public safety telecommunications. We want to recognize the hard work and commitment you provide while working full-time jobs. We encourage your participation to help us identify nominees who meet the criteria. The submission deadline is June 1st for the annual presentations in November.