September 06, 2022

Next up in PSCR's Webinar Series:
NIST & the FirstNet Authority's
Public Safety Immersive Test Center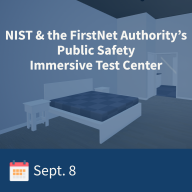 Thursday, September 8, 2022
11:00 AM – 12:00 PM (MT)
This Thursday join PSCR's UIUX and LBS portfolio leads, and representatives from the FirstNet Authority, to learn more about the new public safety standards and measurement testing area and its potential use cases.

Located in the FirstNet Authority's Boulder, Colorado facility, the PSITC will allow for limitless virtual environments for testing and demonstration purposes, including search and rescue and Coordinated Complex Terrorist Attacks. Over time, the center will integrate technologies from other PSCR research areas, like the Internet of Things and analytics, for use in R&D and for demonstration purposes.
National Institute of Standards and Technology
325 Broadway, Boulder, CO, 80305 US